Home page > Help > Artwork Specifications > CorelDRAW Artwork
Note for CorelDRAW Artwork
1. Do not draw cutting lines whether in business card or poster artwork, please set the trimmed size by outer frame lines and
tints in K100. Make the artwork as 92 x 56mm (finished size as 90 x 54mm) with at least 2mm bleeding space to avoid the
content (text/graphic) be cut off due to error when trimming.
2. When the artwork is finished, please put all the artworks for printing on the same page. Front side should be placed on the
left, back side on the right, do not place them as up and down. Please create different files according to different paper
materials and quantities lest any misunderstanding in printing. For single-sided printing, please place the artwork at the
middle of the, do not put in on the left and right at the same time. <Sample 1>

3. Please do not use "Layer" setting to finish the artwork, lest any omission or overlapped images when print.
4. Please do not use the paragraph font layout which cannot be outlined. Please convert to artists writing and outline.
5. Format of image should not be in RGB, LAB or Indexed. Please convert them to CMYK format if needed.
6. If you use CorelDraw 9 to finish the artwork, font should not be in "mingliu", "Pmingliu", or "Times New Roman", as it will
cause "hollowed font" when outlining. <Sample 2>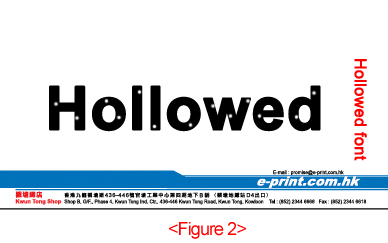 7. Frame thickness should be over 0.25pt / 0.076mm (Hairline) for printing. When setting the properties of line, please do not
set "image zoom". Otherwise, it would change with graphics. <Sample 3>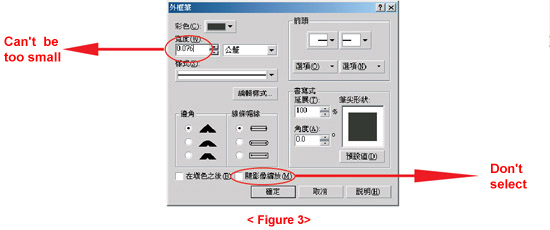 8. If effects of transparency, filtering, special material colouring, Powerclip images, skeleton diagram, color washlight, and
extruding is needed, the image needs to convert to dot-matrix in CMYK format, lest colour wrongness or white leakage
happened.<Sample 4>
9. When convert to dot-matrix, please select CMYK 32, 350dpi resolution and anti-aliasing compensation. If the vector graphics is
in 1,000dpi, please do not select anti-aliasing compensation, transparent background or color profile.<Sample 5>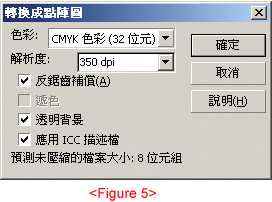 10. Please set the graphics in 300 - 350dpi, do not set too high lest file size will be too large.

11. TIF is suggested as the image format in CorelDRAW. If PSD Alpha Layer is used, please combine all layers to one layer to
avoid layer misplaced.

12. Please do not set overprint colouring.

13. If tapered gradually layer colouring is used, please convert to dot-matrix.

14. The gradually layer cannot put in the drawing frame for angling. If angling need to be changed, the gradation will get weak.
You should change angle first, then put in the drawing frame or convert to dot-matrix.

15. When special brush is used to separate the frame lines and colour, please make sure to remove the lines to avoid printing
out.

16. For clip dot matrix, image will be separated as objects outside and inside the frame, if you rotate it, only object inside the
frame will be rotated and the outside will keep unchanged. Therefore, incomplete image or image lost may caused.

17. For K100% of ground colour, please fill the same colour outer frame for colour and text. Overprint outer frame is suggested
to avoid the white leakage due to inaccurate black overprint.
18. For image file, please use "Eyedropper tool" to check the colour percentage of CMYK to avoid all four colour in black.
19. Please do not rotate angle while Inputting (back in image); if angle must be rotated, please switch to dot matrix again to
avoid incomplete graphics.

20. To draw an unclosed circle or sign, please fill in colour to check whether it became close segment lines during the process
and turn colour in available (which should be colour in unavailable). A connected line will automatically appear during output
and cause printing error.

21. Please press F4 button to display all objects on the page to check if there is any additional objects are not deleted when
output; Use framework mode to check if there is any object or text has been covered by the background images.

22. Artwork made by WORD, such as form and images, when pasting into CorelDraw for application, virtual object belongs to OLE
needed to switch to dot matrix once again. <Sample 6>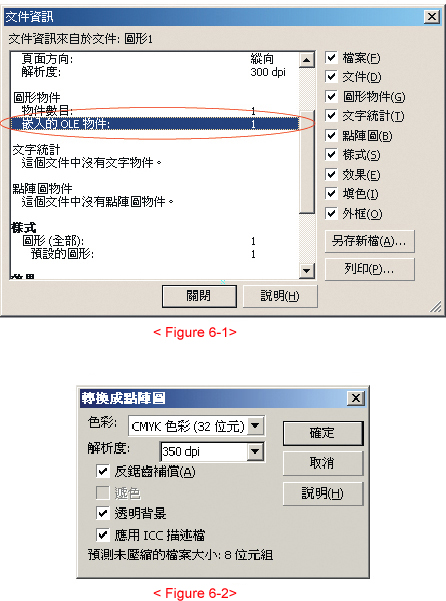 23. Colour tools "Preset gradually layer", "material" are in RGB, please use "Search and replace" in "edit" to convert to CMYK, or
else colour shift must occur.

24. Colours other CMYK such as RGB、HLS、HSB、LAB etc. cannot be required for printing. Customer should refer to the
percentage of CMYK chromatographic to fill in colour when make the draft.
25. All tints should not less than 10% as they are difficult to maintain throughout the printing process.
26. Please confirm whether all texts in the file have been outlined. <Sample 7>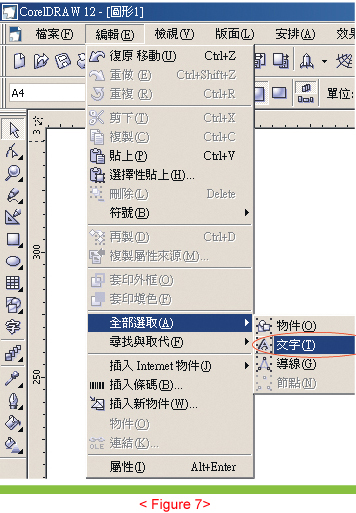 27. Please outline all texts if there are fonts. <Sample 8>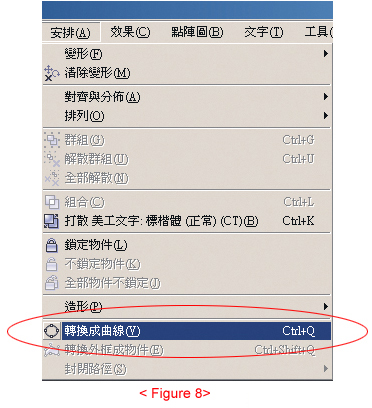 28. Error would occurred easily if special effect of drop shadow is used by CorelDraw, therefore, it needs to do "Seperation"
before transferring the file. <Sample 9>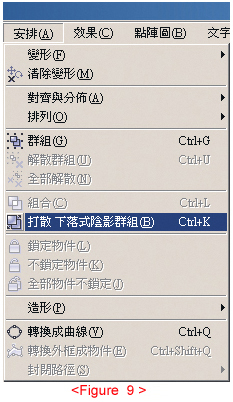 29. Please confirm the examination method after artwork is finished: please use the file information in software to check images,
document, dot matrix, effect and colour in by targeting. <Sample 10>